The farming of warm water red seaweed Kappaphycus alvarezii better known by it's trade name: Cottonii has been undertaken in South-east Asia for a little over 30 years where it has become the main cash crop for many rural dwelling coastal communities who farm the seaweed for the global food industry who utilise the weeds gel forming properties in numerous food, pharmaceutical and cosmetic products.
The Commercialisation of Seaweed Production in Solomon Islands (CoSPSI) Project was started in July 2005 and is financed by the European Union STABEX Fund (98). The overall objective of the Commercialisation of Seaweed Production in the Solomon Island (CoSPSI) project is to improve the socio-economic wellbeing of isolated rural communities by diversification of the cash economy, and the involvement of women in the primary productive sector.

The CoSPSI Project – Stabex Project Number ST 98/009 – was implemented by Gillett, Preston Associates Inc. with the government of the Solomon Islands (SIG), supervised by the Ministry of Fisheries and Marine Resources.
Wagina Farm Site
The Wagina farms were first established in December 2004 when seed material was transferred there from Rarumana. The people of Wagina originated from Kiribati and were settled on the Island of Vaghena in the early 1960's. The population of Wagina is now in excess of 2000 and distributed through 4 main village areas – Kukutin, Arariki, Te Ngenge and Nikumaroro. The latter is sited some distance from the first three which are adjacent to each other. Almost without exception, the people of Wagina are dependent on the sea for their food and any income.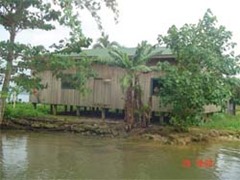 The live seaweed stocks were introduced and distributed to interested farmers in early 2004. Registered farmers reached a record of 232 when the price of seaweed was $2.00 per kilogram. In June 2004 dried seaweed production from Wagina reached more than 9 metric tonnes and became the number 1 site, taking over from Rarumana. In 2005, the Rarumana site was seriously affected by disease, which destroyed about 90% of the farms, leaving Wagina as the only major site and supplier in operation.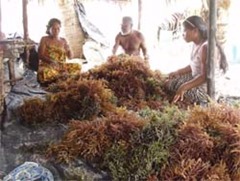 When the European Union approved and provided funding for a Seaweed Project in July 2005, there was ample stocks of seaweed planting material available in Wagina to enable other sites such as North Malaita, Ontong Java and Reef Islands to be established. Since its introduction, Wagina farmers have maintained dry seaweed production for export albeit at fluctuating levels. Currently there is a significant resurgence in the farming effort, due to the banning of beche-de-mer harvesting and more importantly an upward movement in the farm gate price. A record of more than $500,000.00 was generated by Wagina farmers from cultivating seaweed in 2005.
North Malaita Farm Site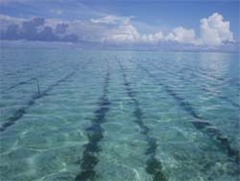 The North Malaita Farms were established when seeds stocks were introduced in 2004. The community living on the island of Manaoba was the first farmers. A warehouse was built on this island to cater for production. There are several communities in North Malaita that reside on artificial islands built with rocks recovered from the seabed

In 2005, communities living on Sulufou Island were provided with seed planting material and farm materials. Farming soon expanded to other communities adjacent to Sulufou. There were 242 farmers registered in the North Malaita area. The main cultivation method being used is long floating lines although there are some farmers employing the off-bottom method on the shallow reef areas. Income generated from seaweed farming in the area reached in excess of $60,000.00 in 2007.
Ontong Java Farm Site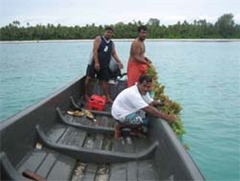 The project expanded to Ontong Java in April 2006 when 8metric tonnes of live seaweed were shipped from Wagina to Ontong Java. Farms were established immediately and a warehouse was later built to accommodate the incoming production. The main method used here was the long floating line.
The total number of registered farmers reached 338. Production from OTJ started to come through in July 2006 and a total in excess of 6 metric tonnes of dried seaweed was produced by farmers. Unfortunately, in April 2007, the beche-de-mer industry was re-opened after the earthquake/tsunami and most seaweed farmers abandoned their seaweed farms and concentrated their effort in harvesting beche-de-mer. In excess of $10,000.00 was generated by OTJ farmers through the cultivation of seaweed in 2006.
Reef Islands Farm Site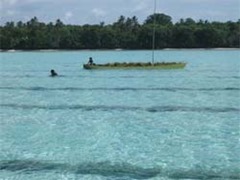 The project expanded to Reef Islands in early 2006 where 5 MT of live seaweed was transported to Reef Islands. Farms were established immediately and warehouse was built to accommodate the incoming production.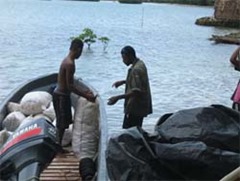 A record of 110 farmers were registered in Reef Islands. Production from Reef Islands appeared in April 2006 with a total of more than 5 MT of dried seaweed was produced by farmers in 2006. The warehouse was completed in 2007. Fish and turtle grazing was the main problem in Reef Islands hindering the expansion and development of farms. The impact of the April 2 tsunami in 2007 affected further development.
A highest record of more than $8,000.00 was generated by Reef Islands farmers from cultivating seaweed in 2006. More live seaweed are delivered in 2008 but are kept in cages to avoid fish grazing.
Morovo Farm Site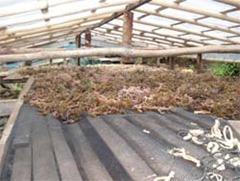 Live seaweed reached Marovo in July 2006 after a training workshop was held in Gizo. The participants from Marovo with the assistance from Ministry of Fisheries and Marine Resources and International Waters Program established nurseries and eventually farms were established in Marovo by few farmers.
Unfortunately in 2007 no further assistance was provided and the momentum of farming in Marovo slowed down. However, towards the end of 2007, The CoSPSI project and MFMR visited the site and found that few farmers still maintained their farms and kept on drying their seaweed. The project purchased the dried seaweed and set up a strategy to assist the farmers in Marovo in conjunction with MFMR.
Now a record of 21 farmers was registered in Marovo. Production from Marovo appeared in December 2007 with a total of more than 1.4 MT of dried seaweed was produced by farmers in 2008. The farmers are now assisted by the MFMR and the CoSPSI is providing assistance in purchasing dried seaweed.
Marau Farm Site
Live seaweed reached Marau in 2008 by the MFMR. Marau farm site is on a nursery stage where few sites are on trial. According to the Chief Fisheries Officer, some sites in Marau are perfect for farming seaweed and his staff are regularly visiting Marau expanding the nurseries. Hopefully with a month or so, the live seaweed will be distributed to interested farmers.