Asia-Pacific faces diabetes challenge
Health systems in the Asia Pacific region are battling an epidemic of obesity and diabetes that many are poorly equipped to deal with. Margaret Harris Cheng reports from Hong Kong.
The Pacific Island nations have health systems geared to dealing with infectious diseases but their economies, dependent on imported food and urban-based activity, encourage obesity and its consequences: Type 2 Diabetes.
"In 1948, the US navy did a health survey and found no diabetes in Pohnpei [the Federated States of Micronesia]. Now one in three have that problem", said Lois Engelberger from Let's Go Local—a group researching and promoting a return to traditional Pacific Island diets.
Pacific solutions to the diabetes epidemic

Let's Go Local is a non-governmental organisation working in Pohnpei, the Federated States of Micronesia—an island group in the Northern Pacific Ocean, known to have a wide range of Indigenous food sources, including 55 varieties of bananas, 171 types of yam, and 133 different forms of breadfruit—the food that originally brought Captain Cook to the Pacific.

In less than 50 years, the population of Pohnpei has gone from having no diabetes (according to a US Navy survey done in 1948) to a prevalence of 43%, according to their most recent WHO survey. Vitamin A deficiency is common in children and obesity widespread in adults.

In 2006, Let's Go Local analysed food content—both imported and locally grown—in Pohnpei and found the population had a very high intake of nutrient poor imported food. At the same time they found a high intake of nutrient rich varieties of banana (particularly a type known locally as karat) and taro.

Using a range of strategies—including an awareness campaign using posters with messages promoting yellow-fleshed fruit and vegetables as a good source of vitamin A and other health benefits; proclamation of karat as the Pohnpei State Banana; national karat postal stamps; a Going Yellow video and Go Local billboards and email network; conservation of rare carotenoid-rich plants in gene bank collections; support for small-scale local food processing; and research they were able to persuade people to eat more local food.

But, Lois Engelberger from Let's Go Local, told the Pacific Food Summit, that there is still a long way to go. "By 2007, we were able to raise the content of banana and taro in the diet…but Pohnpei still imports US$17 million worth of processed food."
The Pacific region tops the world obesity and diabetes charts. WHO STEPS (Step-wise approach to surveillance) reports have found obesity rates—defined as a body-mass index (BMI) greater than 30 kg/m2—of 75% in American Samoa, Nauru, and Tokelau; 51% in Kiribati; 45% in the Marshall Islands; 43% in the Federated States of Micronesia (Pohnpei); 33% in the Solomon Islands; and 30% in Fiji.
Diabetes rates are just as astonishing. Population surveys in different islands have recorded rates of 47% in American Samoa; 44% in Tokelau; 32% in the Federated States of Micronesia (Pohnpei); 28% in the Marshall Islands and Kiribati; 23% in Nauru; and 14% in the Solomon Islands. As a comparison, in nearby Australia, the diabetes rate is 3·6%, whereas in 2007, the USA's overall population rate of diabetes was 7·8%.
The Pacific Island diet has shifted from one based on traditional root crops and seafood to one relying on energy dense and nutritionally poor imported products such as highly refined cereals (instant noodle and white rice) and fatty meats, sold cheaply by their developed neighbours—turkey tails from the USA and lamb flaps from Australia and New Zealand.
Throughout the Pacific the story is the same. "Fiji is being used as a dump for Asian products…Fiji is focusing on exporting food but there is no safeguard on imports. Why aren't we protecting our consumers?" says Premila Kumar, chief executive officer of the Fiji Consumer Council—the only body of its kind among Pacific Island nations.
Fiji's consumer advocate, Kumar, said her group surveyed schools and found that "schools were teaching about healthy food but had unhealthy food in the canteens. Coca-Cola was giving special school prizes—free fizzy drinks. So this is where it starts."
When her group asked Fijian school children to pick foods to put in their lunchboxes—ranging from healthy foods such as fruit and vegetables, to unhealthy snack foods—20% chose one or two healthy items, but 80% filled the entire lunchbox with unhealthy foods.
Susana Tuisawau, executive director of the Pacific Foundation for the Advancement of Women, says that there is no point in just telling people to eat more fruit and vegetables when these are much more expensive than the imported processed foods.
"If people do not have a place to grow their own vegetables and fruit, they are unlikely to return to traditional diets because such a diet is priced beyond what most can afford", says Tuisawau. Her group asked politicians gathered at the Pacific Food Summit in April to consider "encouraging Pacific Island Governments to re-look at new low-cost housing and building policies so that in the Pacific these must make provisions for home gardening".
But be they sedate Pacific Islanders or driven Hong Kong traders, the inhabitants of the Asia-Pacific region are all facing the same problem, a disease that their health systems have yet to tackle effectively, and one that poses more and more difficult questions daily.
However, the fact there are questions, is a positive sign, says Juliana Chan. "This is a very complex disease. If we don't understand the epidemiology, the evolution, and the anthropology, we won't understand diabetes."
Source: The Lancet
---
From the NCD Alliance:
NCDs in the Pacific Region: Advances in Policy
The 45th Summit of the Pacific Islands Forum in Palau adopted a Forum Communiqué on 1 August 2014, with very positive implications for the NCD response in the Pacific Region.
In the Forum Communiqué, leaders committed to support the Pacific Partnership for a Multi-sector Approach to Prevent and Control NCDs (among others), which was launched at the Third Conference on Small Island Developing States in Apia, Samoa, on 1-4 September 2014.
The NCD Partnership will be multisectoral, will likely be virtual to start, and will aim to significantly progress the prevention and control of NCDs in Pacific SIDS."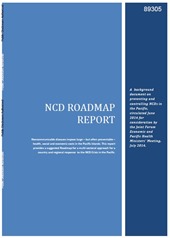 The adoption of the Forum Communiqué follows the adoption of a specific statement on NCDs at the July 2014 Joint Forum Economic and Pacific Health Ministers Meeting in the Solomon Islands. This statement endorses the Pacific NCD Roadmap – a regional NCD strategy. Within the NCD Statement, the Economic and Health Ministers commit to considering five actions to develop country-specific roadmaps together.
Third International UN Conference on Small Island Developing States: September 2014
Heads of State and Government, ministers, and other relevant stakeholders met in Apia, Samoa on 1-4 September 2014 for the UN Conference on Small Island Developing States. The focus of this high-level conference was "the sustainable development of small island developing States through genuine and durable partnerships."
UN Administrator Helen Clark addressed delegates at a side event on NCDs highlighting the developmental drivers of the NCD epidemic in Small Island Development States (SIDS). Social development, health and NCDs, and youth and women was one of six priority themes at the conference, and was the focus of a high-level partnership dialogue on 2 September 2014 (read the partnership brieifng here).
Highlights from the week included the launch of the "Pacific NCD Partnership for a Multi-sector Approach to Prevent and Control", and adoption of the conference's outcome document, the Samoa Pathway.
The objective of the Pacific NCD Partnership for a Multi-sector Approach to Prevent and Control is to strengthen and coordinate the necessary capacity and expertise to support Pacific SIDS in a more robust effort to significantly progress the prevention and control of NCDs and meet the globally agreed NCD targets.
The Small Island Developing States Accelerated Modalities of Action (SAMOA Pathway) recognises the need to support and invest SIDS in order for them to achieve sustainable development, and the role of financing from a range of sources in order to realise this goal. The Samoa Pathway emphasised NCDs specifically as a priority area for sustainable development in SIDS, with action needed to empower responses in SIDS worldwide.
http://ncdalliance.org/ncds-and-small-island-developing-states
Documents
Forum Communiqué 45th Pacific Islands Forum
Joint Forum Economic and Pacific Health Ministers Meeting Outcome Statement NCDs
Pacific NCD Roadmap
SIDS Side Event: NCDs, Health and Development
NCD Alliance Statement – NCDs, Health and Development
NCD Alliance Statement – Social development in SIDS: Health and NCDs, Youth and Women