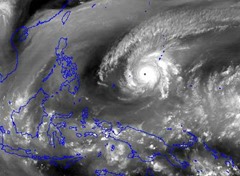 Super Typhoon Maysak, one of the strongest cyclones in history during the months of January, February and March, has already slammed several Micronesian islands on its way to the Philippines.
Maysak will continue to strengthen during the next 12-24 hours as it moves westward across the Pacific Ocean. Though passing to the north of Yap, flooding rain and significant damaging winds will still be possible.
Maysak first developed into a tropical storm on Friday while located across Micronesia, southeast of Guam. The storm has continued strengthening since and will remain a large and dangerous typhoon as it tracks westward toward the Philippines this week.
Maysak slammed the island of Chuuk over the weekend with damaging winds and torrential rainfall as the core of the storm moved directly over the island. More than 250 mm (10 inches) of rain was reported, most of which fell in under six hours.
Andrew Yatilman, director of the National Emergency Management Office of the Federated States of Micronesia, reported to Radio New Zealand that there was severe damage across Chuuk with roofs completely torn off homes and possible casualties.
Yap will be the next significantly populated island to be affected by Maysak. The close encounter will occur from Tuesday night into Wednesday morning, local time, with lingering impacts into Wednesday afternoon.
Maysak will be close to peak intensity at this time with sustained winds expected to be 285 kph (180 mph) or greater, equivalent of Category 5 hurricane. Gusts as high as 350 kph (220 mph) are possible. Fortunately with the storm passing about 100 miles to the north wind gusts of 160 kph (100 mph) will be more likely.
Major wind damage across the islands is expected, along with flooding rainfall. The powerful super typhoon will bring life-threatening conditions to the islands for a period of 12 to 24 hours. Conditions will improve Wednesday night as the storm moves away from the area.
After passing Yap, Maysak will soon begin to feel the influence of increasingly strong wind shear as it tracks across the western Philippines Sea. This wind shear will begin a weakening trend as the typhoon approaches the Philippines.
Despite the weakening trend that is expected through the end of the week, Maysak could still be a dangerous typhoon or tropical storm as it begins to affect the eastern Philippines next weekend.
An eventual path into the central or northern Philippines is most likely, bringing the threat for flooding rainfall and damaging winds.
Impacts from the storm will arrive in Manila by Sunday or Monday; however, threats will be limited to tropical downpours which may cause some localized flooding.
Maysak will continue to weaken as it crosses the Philippines and even though it will move into the Philippine Sea, no restrengthening is expected and the cyclone will likely dissipate shortly after exiting the Philippines.
Meteorologist Adam Douty contributed to this story.
(Source: ACCU Weather; March 31, 2015; http://tinyurl.com/p7945qa)