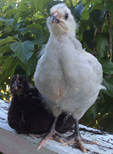 In late December last year we announced that we had successfully managed to bring heritage egg-laying chickens to Tuvalu as part of our Six Chix Project. Well, as hoped all 18 chicks grew up and although we lost one young roo just as he matured, all the rest are alive and well. We managed to get a good set of breeders to start distributing to the community.
Fingers crossed, the first chicks should start rolling in about 2 weeks from now and in this first batch we have 50 eggs incubating. The eggs are from pure breeds, about half from Lavender Araucanas, and about half from Blue and Black Australorps. The plan is to keep producing babies from now on, putting on a new batch of 50 eggs every 3 weeks or so. We will keep each batch for around 10 days to ensure they are eating well and healthy and that they do not need to be kept warm (by lamp or heating pad) any more. Chicks are warm enough very quickly in Tuvalu where our lowest night time temperatures are around 28 C.
The chicks will be available along with a small bag starter food if you need it. We request a donation of $2.50 per chick and some extra for food to help support us with keeping the programme running and help to set up more breeders.
We will announce when they are ready so those who have ordered chicks can come and get them. If you are interested in getting some of our chicks, please contact us through this website or call or email so we can keep them for you.
Here are the breeds: (left: Lavender Araucana; Middle: Blue Australorp; Right: Incubator).